Frederic Cambus

December 11, 2013

[Networking]
A few weeks ago, I discovered speedtest-cli, a neat Python script (requires at least Python 2.4) for testing internet bandwidth on a server from the comfort of the Command Line.
Usage information:
usage: speedtest_cli.py [-h] [--share] [--simple] [--list] [--server SERVER]


                        [--mini MINI] [--version]





Command line interface for testing internet bandwidth using speedtest.net.


--------------------------------------------------------------------------


https://github.com/sivel/speedtest-cli





optional arguments:


  -h, --help       show this help message and exit


  --share          Generate and provide a URL to the speedtest.net share


                   results image


  --simple         Suppress verbose output, only show basic information


  --list           Display a list of speedtest.net servers sorted by distance


  --server SERVER  Specify a server ID to test against


  --mini MINI      URL of the Speedtest Mini server


  --version        Show the version number and exit

In order to test this tool, I've been benchmarking VPSes from Tilaa (where this site is currently hosted), as well as some from hosting providers which have been offering free credits recently, namely Gandi and Digital Ocean.
As results can (and do) vary in time, I wrote a small script doing 10 consecutives tests in order to get a better picture of how each server performs. For each location, two results images are published: the first one showing the fastest download speed, whereas the second one shows the fastest upload speed. Please note, however, that these results should be taken cautiously: they only give an insight of bandwidth performance at the time tests were run.
Tilaa (Datacenter: Amsterdam, Netherlands)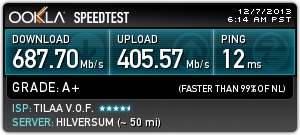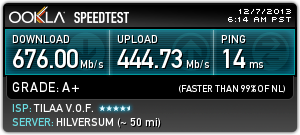 Raw results:
Download:  94.42 Mbit/s		Upload:  44.46 Mbit/s


Download: 654.69 Mbit/s		Upload: 407.97 Mbit/s


Download: 680.34 Mbit/s		Upload: 388.78 Mbit/s


Download: 586.97 Mbit/s		Upload: 391.02 Mbit/s


Download: 542.63 Mbit/s		Upload: 370.41 Mbit/s


Download: 477.39 Mbit/s		Upload: 364.78 Mbit/s


Download: 645.13 Mbit/s		Upload: 408.19 Mbit/s


Download: 676.00 Mbit/s		Upload: 444.73 Mbit/s


Download: 687.70 Mbit/s		Upload: 405.57 Mbit/s


Download: 668.01 Mbit/s		Upload: 388.83 Mbit/s

Tilaa (Datacenter: Haarlem, Netherlands)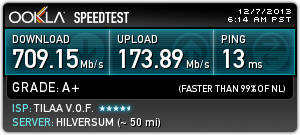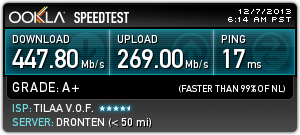 Raw results:
Download: 703.92 Mbit/s		Upload: 193.38 Mbit/s


Download:   7.79 Mbit/s		Upload:   1.71 Mbit/s


Download: 683.73 Mbit/s		Upload: 180.94 Mbit/s


Download: 709.15 Mbit/s		Upload: 173.89 Mbit/s


Download: 448.33 Mbit/s		Upload: 251.99 Mbit/s


Download: 447.80 Mbit/s		Upload: 269.00 Mbit/s


Download: 606.35 Mbit/s		Upload: 219.37 Mbit/s


Download:  87.47 Mbit/s		Upload:  43.60 Mbit/s


Download: 662.61 Mbit/s		Upload: 177.91 Mbit/s


Download:  90.70 Mbit/s		Upload:  57.50 Mbit/s

Gandi (Datacenter: Baltimore, USA)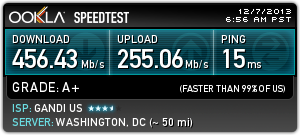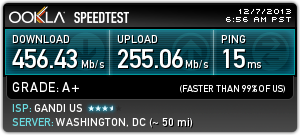 Raw results:
Download: 456.43 Mbit/s		Upload: 255.06 Mbit/s


Download:  74.81 Mbit/s		Upload:  55.98 Mbit/s


Download: 174.93 Mbit/s		Upload: 120.04 Mbit/s


Download: 437.63 Mbit/s		Upload: 172.65 Mbit/s


Download: 168.58 Mbit/s		Upload: 127.97 Mbit/s


Download: 158.39 Mbit/s		Upload: 120.75 Mbit/s


Download: 161.01 Mbit/s		Upload: 111.07 Mbit/s


Download:  85.14 Mbit/s		Upload:  48.23 Mbit/s


Download:  80.82 Mbit/s		Upload:  22.79 Mbit/s


Download:  83.71 Mbit/s		Upload:  37.98 Mbit/s

Gandi (Datacenter: Bissen, Luxembourg)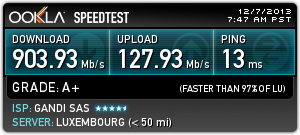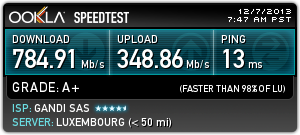 Raw results:
Download: 402.27 Mbit/s		Upload: 211.17 Mbit/s


Download: 379.28 Mbit/s		Upload: 248.84 Mbit/s


Download: 434.30 Mbit/s		Upload: 125.21 Mbit/s


Download: 891.98 Mbit/s		Upload: 127.09 Mbit/s


Download: 900.97 Mbit/s		Upload: 128.43 Mbit/s


Download: 903.93 Mbit/s		Upload: 127.93 Mbit/s


Download: 899.18 Mbit/s		Upload: 123.96 Mbit/s


Download: 899.83 Mbit/s		Upload: 201.56 Mbit/s


Download: 784.91 Mbit/s		Upload: 348.86 Mbit/s


Download: 372.75 Mbit/s		Upload: 105.95 Mbit/s

Gandi (Datacenter: Paris, France)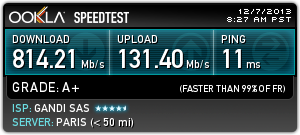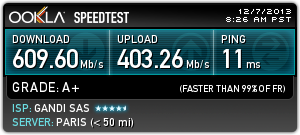 Raw results:
Download: 164.81 Mbit/s		Upload: 118.00 Mbit/s


Download: 755.53 Mbit/s		Upload: 128.06 Mbit/s


Download: 777.13 Mbit/s		Upload: 131.62 Mbit/s


Download: 645.72 Mbit/s		Upload: 181.67 Mbit/s


Download: 716.43 Mbit/s		Upload: 393.14 Mbit/s


Download: 177.09 Mbit/s		Upload: 111.83 Mbit/s


Download: 645.69 Mbit/s		Upload: 132.04 Mbit/s


Download: 609.60 Mbit/s		Upload: 403.25 Mbit/s


Download: 804.56 Mbit/s		Upload: 128.06 Mbit/s


Download: 814.21 Mbit/s		Upload: 131.40 Mbit/s

Digital Ocean (Datacenter: Amsterdam 1, Netherlands)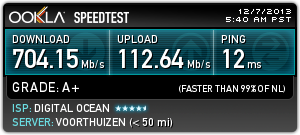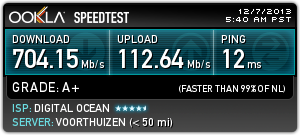 Raw results:
Download: 262.82 Mbit/s		Upload:  13.93 Mbit/s


Download: 344.13 Mbit/s		Upload:  13.50 Mbit/s


Download: 704.15 Mbit/s		Upload: 112.64 Mbit/s


Download: 336.92 Mbit/s		Upload:  25.45 Mbit/s


Download:  93.89 Mbit/s		Upload:  21.75 Mbit/s


Download:  68.64 Mbit/s		Upload:  20.74 Mbit/s


Download: 129.01 Mbit/s		Upload:  23.52 Mbit/s


Download: 239.97 Mbit/s		Upload:   4.26 Mbit/s


Download: 337.53 Mbit/s		Upload:  13.45 Mbit/s


Download: 437.27 Mbit/s		Upload:  25.59 Mbit/s

Digital Ocean (Datacenter: Amsterdam 2, Netherlands)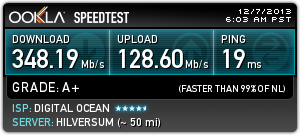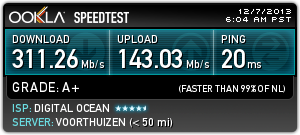 Raw results:
Download: 297.73 Mbit/s		Upload:  25.07 Mbit/s


Download: 321.75 Mbit/s		Upload:  94.86 Mbit/s


Download: 315.00 Mbit/s		Upload: 119.87 Mbit/s


Download: 348.19 Mbit/s		Upload: 128.60 Mbit/s


Download: 294.31 Mbit/s		Upload: 118.69 Mbit/s


Download: 295.08 Mbit/s		Upload: 122.73 Mbit/s


Download:  82.35 Mbit/s		Upload:  10.15 Mbit/s


Download: 333.61 Mbit/s		Upload: 142.82 Mbit/s


Download: 311.26 Mbit/s		Upload: 143.03 Mbit/s


Download: 308.07 Mbit/s		Upload:  24.83 Mbit/s

Digital Ocean (Datacenter: New York 1, USA)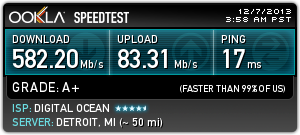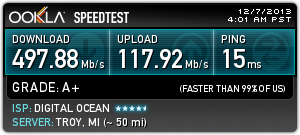 Raw results:
Download: 582.20 Mbit/s		Upload:  83.31 Mbit/s


Download: 230.25 Mbit/s		Upload:  73.64 Mbit/s


Download: 418.53 Mbit/s		Upload: 113.69 Mbit/s


Download:  56.54 Mbit/s		Upload:  46.75 Mbit/s


Download:  56.03 Mbit/s		Upload:  47.21 Mbit/s


Download: 319.18 Mbit/s		Upload:  83.06 Mbit/s


Download: 158.55 Mbit/s		Upload:  77.99 Mbit/s


Download:  78.65 Mbit/s		Upload:  64.26 Mbit/s


Download: 497.88 Mbit/s		Upload: 117.92 Mbit/s


Download: 467.19 Mbit/s		Upload: 114.34 Mbit/s

Digital Ocean (Datacenter: New York 2, USA)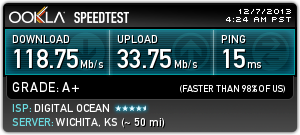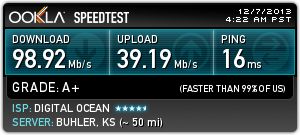 Raw results:
Download:  89.32 Mbit/s		Upload:  38.49 Mbit/s


Download:  31.99 Mbit/s		Upload:  20.71 Mbit/s


Download:  31.83 Mbit/s		Upload:  20.70 Mbit/s


Download:  98.92 Mbit/s		Upload:  39.19 Mbit/s


Download:  17.86 Mbit/s		Upload:  24.93 Mbit/s


Download:  58.86 Mbit/s		Upload:  31.86 Mbit/s


Download:  32.82 Mbit/s		Upload:  20.89 Mbit/s


Download: 118.75 Mbit/s		Upload:  33.75 Mbit/s


Download:  16.21 Mbit/s		Upload:  22.00 Mbit/s


Download:  37.23 Mbit/s		Upload:  21.06 Mbit/s

Digital Ocean (Datacenter: San Francisco, USA)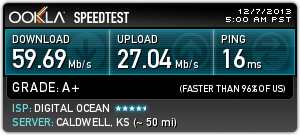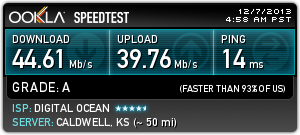 Raw results:
Download:  29.69 Mbit/s		Upload:  15.65 Mbit/s


Download:  50.07 Mbit/s		Upload:  39.72 Mbit/s


Download:  54.99 Mbit/s		Upload:  32.78 Mbit/s


Download:  30.75 Mbit/s		Upload:  14.97 Mbit/s


Download:  44.61 Mbit/s		Upload:  39.76 Mbit/s


Download:  45.55 Mbit/s		Upload:  39.76 Mbit/s


Download:  18.91 Mbit/s		Upload:  23.75 Mbit/s


Download:  29.36 Mbit/s		Upload:  16.03 Mbit/s


Download:  30.27 Mbit/s		Upload:  14.17 Mbit/s


Download:  59.69 Mbit/s		Upload:  27.04 Mbit/s