Frederic Cambus

June 09, 2011

[Ansi Art]
I'm very happy to announce the release of my ANSi Social Media Icon Set, licensed under the Creative Commons CC-BY-SA 3.0 license and containing icons for the following services: Facebook, Twitter, LinkedIn, Google +1, Digg, Delicious, StumbleUpon, Reddit.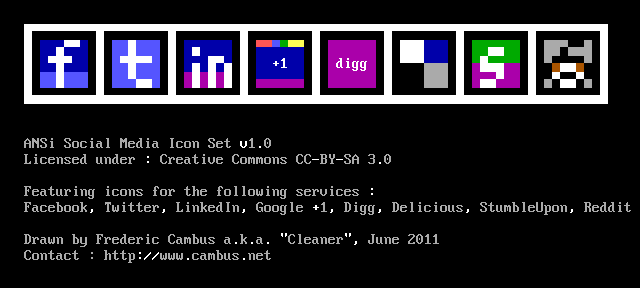 Each icon has been drawn in ANSi with a resolution of 3 lines by 6 columns: pixel equivalent would be 6x6 as even if they are only 3 lines high, I could of course take advantage of the "Upper half block" and "Lower half block" extended ASCii characters (respectively chars #223 and #220, please refer to my Ascii Table if you're unfamiliar with the ASCii charset). Once converted in PNG, each icon is rendered into a 48x48 bitmap file, which is quite a standard size for social icons nowadays. One interesting point to note is that given the minimalist range of colors used, file sizes are EXTREMELY small: as icons are saved in 1-bit, 2-bit or 4-bit colormaps, their sizes range from 156 to 206 bytes.
Drawing in such a small resolution sure proved to be challenging, and I had to trade accuracy for aesthetics  (e.g. the StumbleUpon icon lacks the U of the original). Surpisingly, the 16 colors (EGA palette) limitation was not a problem at all (thanks to iCE colors, allowing to use 16 foreground colors instead of 8), which either means the palette had been really well chosen back in the days, or that icon designers tend to stick to similar colors.
That's it. Share and enjoy the set and if you use it somewhere I would love to hear about it, please leave a comment.
Download links: ansi-social-media-icon-set.tar.gz or ansi-social-media-icon-set.zip
P.S.: Google guys, if you read this, I would love to draw an ANSi doodle someday!